Anita Daher has been entrenched in the book publishing industry since 1995, writing middle grade and teen novels, including fan favourites Spider's Song, Two Foot Punch and Racing for Diamonds. Living in an ADHD dominated household has influenced the stories she writes, and her presentations, which are geared toward captivating those who are "attention different." In 2007 she received the John Hirsch Award for Most Promising Manitoba Author. She has worked on occasion as marketing director, editor, and radio broadcaster, and is currently editor at Great Plains Teen Fiction. When not word wrangling she enjoys playing her guitar or ukulele, and instigating things (usually house renos and adventures).
NEW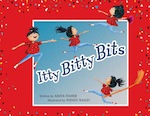 Itty Bitty Bits, Peanut Butter Press, October 21 2013
ISBN 978-1-927735-01-5
Hardcover, 32 pages, $19.95
(See
Picture Book
page for book trailer/teaser and a presentation video)
"Literacy Partners of Manitoba is proud to support the launch of Itty Bitty Bits, the new children's book written by award winning author Anita Daher and illustrated by Wendy Bailey. Anita and Wendy have captured a meaningful life lesson in an engaging and spirited children's book and set a clear example of personal accomplishment for children and parents as well as learners and teachers in all stages of their literacy journeys." -John McDonald, executive director Literacy Partners of Manitoba
In bookstores and libraries everywhere. All but
Spider's Song
available in
e-book format
. To purchase books through Amazon,
go here
.
Published (and to be published) by
Stabenfeldt book clubs, Norway (other rights available, worldwide)
:
Wager the Wonder Horse, The Wilderness Cure, The Hustle, Billeh the Kid.